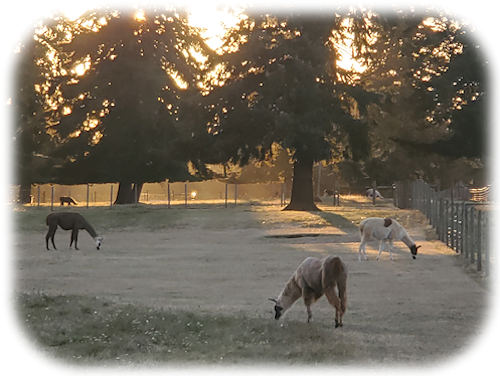 Farm Tours
Call Sherri at 503-710-7541 to make an appointment
We enjoy educating people of all ages that want to learn more about Llamas. If you are new to Llamas, we are happy to answer any questions you might have. If you are considering getting a Llama or two, we encourage you to come for a visit. This will give you a real idea of what they are like and how they interact with each other. Not only do they come in a variety of colors, sizes and fiber types, they all have different personalities!


FARM TOUR (1 hour)


by appointment only
$20.00/adults, $10.00/children 6-12 years, Free/children 5 years and under.
Includes visiting the various pastures, you will get the opportunity to take photos, feed and pet the Llamas. (prices subject to change)


FARM TOUR (1 1/2 hours)
by appointment only, with 1 day advance notice

Not available at this time - Sorry for the inconvenience
$35.00/adults, $25.00/children 6-12 years. (Not recommended for children 5 years and under).
Includes the above with an added short hike through our woods. You will also get to lead your very own Llama. (prices subject to change)

For the safety of everyone, we DO NOT allow dogs onto the property and please wear close toed shoes, no sandals.

Thank you for your understanding!

---
Farm Store
---
At the end of the tour, we will visit our small farm store, which includes fiber wrapped soap, roving for spinning, yarn, rugs and socks made from our very own Llamas. We also have many other Llama related items that make great gifts! You can also visit our SALES page to see some of the items we offer.

---
Services We Offer
---
Consultation at our farm
$35.00 per hour, $50.00 for 2 hours or $75 for 3 hours
If you would like to come learn about training, health care or anything
else you would like to discuss, we can teach you how to trim nails,
shear (April-July) or offer training tips for whatever it is you are
trying to accomplish.

We feel it is very important to match the Llama with the owner, depending on your needs, whether it be breeding, showing, packing, therapy, guarding, 4-H or if you desire, giving that special home to a couple of rescues.



---
About Llamas
---
History
Llamas are members of the Camelid family, which consists of five species, Llamas, Alpacas, Vicunas, Guanacos and Camels. They originated in the high Andes Mountains in South America, with many being imported into the United States from Argentina, Bolivia, Chile and Peru. Llamas have now become so popular that you will see them in nearly every state, including Alaska and Hawaii.
Characteristics
Llamas are extremely intelligent, curious, gentle, well-mannered and have so much personality. They have a padded foot with two toes covered by a hard nail. An adult can weigh anywhere from 250-450#. The average life span is around 15-20 years, although some have lived into their late 20's. Colors vary from WHITE to BLACK, with shades of GREY, BROWN, RED and agouti. They may be SOLID, SPOTTED or marked in a variety of patterns, some with a TUXEDO front and PAINT markings.
Care
Llamas are some of the easiest livestock to raise; but do require routine care like all animals. They need to have at least a three sided shelter with a roof, to provide them with shade in the Summer and get out of the bad weather and one of the most important things to have when owning Llamas, is a catch pen or small area to slowly herd them into for catching. Two to three Llamas can easily be raised on one acre of good pasture and must have access to clean water at all times. They are browsers, so their favorite thing to do is eat leaves, trees, blackberry bushes and whatever else they may find.
There are certain POISONOUS PLANTS, trees or bushes that can be harmful or fatal to Llamas, so it's very important to check into this for your area. Since Llamas mainly live off sparse vegetation in the Andes Mountains, they are extremely efficient at processing food. They should be fed a good quality grass hay in addition to pasture and have a free choice mineral supplement available. Llamas require annual vaccinations and deworming. FECAL TESTING is also important to do at lease once a year. This allows you to treat your Llama with the correct dewormer.

Please consult with your veterinarian for which vaccines and dewormers are best for your area. NAIL TRIMMING is done as needed, approximately two to four times per year. SHEARING is done once a year, usually in the Spring to early Summer months. This is necessary to prevent heat stress, as well as keeping the fiber healthy and useable. It also makes grooming a whole lot easier!

13 Things New Owners Need to Know (2011)

Do Llamas Spit? (2021)

Aggressive Males (2007)

Guidelines to consider when choosing a Llama (2008)

Parasite/Coccidia Photos (2007)

Instructions for doing fecal testing, Page 1 (2022)


Instructions for doing fecal testing, Page 2 (2022)

Toenail Trimming (2007)


The following links are written by Al Ellis, Highline Trail Llamas in Wyoming
Feed & Parasites
Eimeria Macusaniensis (EMAC)

Rickets
Oral Dosing Made Easy
---

The following educational brochures are reprinted with permission from the International Lama Registry (ILR)

Brochure - I Want A Llama!

Brochure #2 - Guard Llamas

Brochure #3 - Llama Facts

Brochure #4 - Medical Management

Brochure #5 - Housing

Brochure #6 - Feeding

Brochure #7 - Herd Management

Brochure #8 - Birthing

Brochure #9 - Llama Fiber/Wool

Brochure #10 - Packing

Brochure #11 - Heat Stress
---
Llama Uses
---
Llamas have several uses, but keep in mind that most Llamas are not good at all things, so it's important to make sure the Llama you choose is a good fit for you and your needs. We can help.

Packing
The "Ccara" Classic Llamas we raise are bred for their strength, power, endurance, longevity, agility, grace and willing temperament. They are definitely the animal of choice for taking extended trips into the mountains and back country. Llamas need far less food and water on the trail than a horse or mule and can carry about 25% of their body weight, around 45-75# depending on size and can go up to 12-15 miles per day if properly conditioned. It's extremely important that you don't add weight on a pack Llama until they are mature, at about 4 years old. Visit our LINKS page for more information about packing with Llamas.



Visit the NORTH AMERICAN CCARA ASSOCIATION
to learn more about the TRUE Working Llama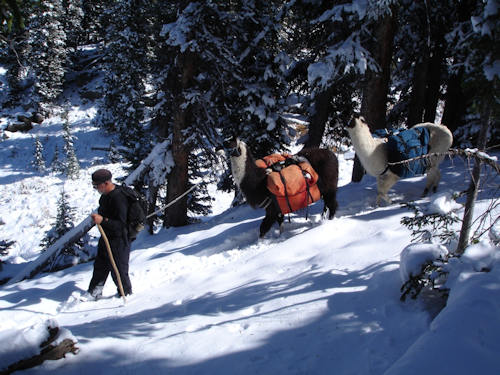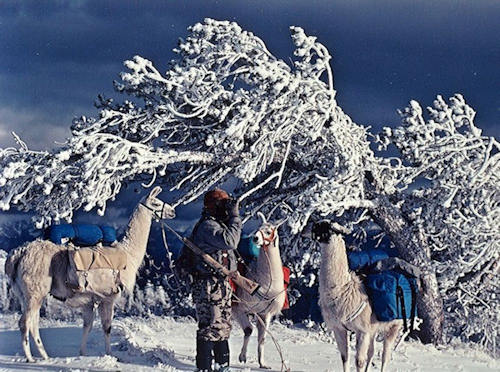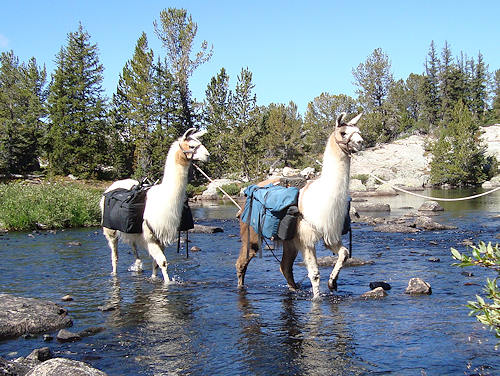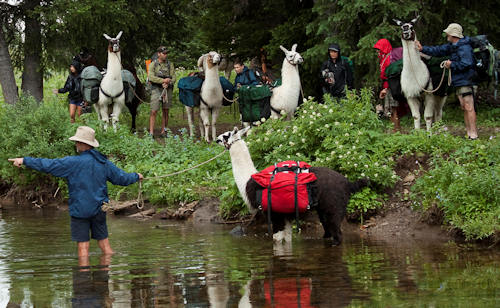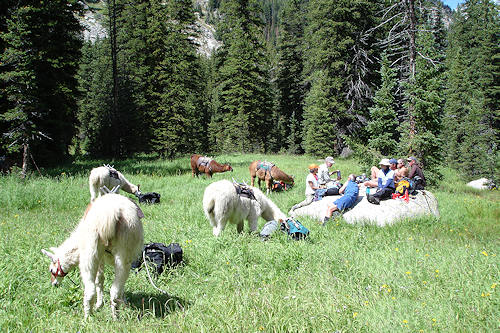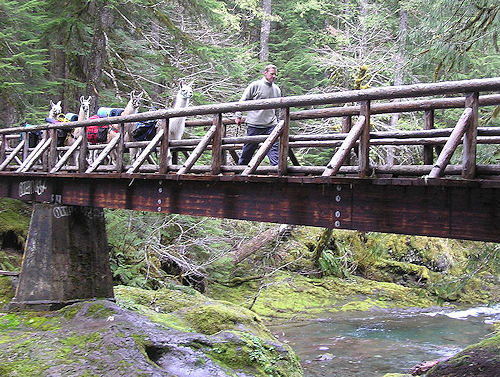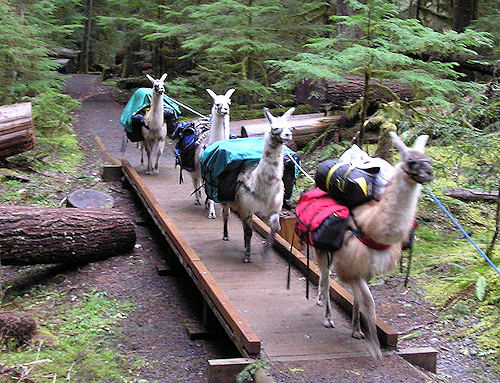 Fiber or
Wool Production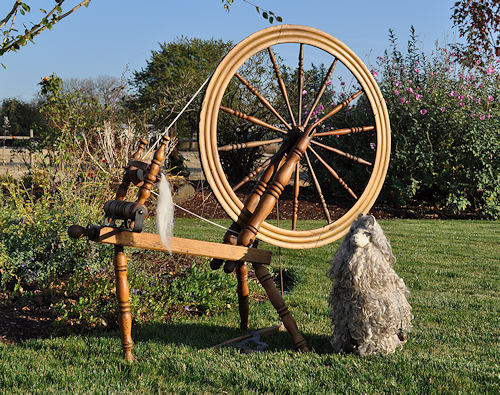 Llama fiber is low in lanolin and is extremely warm. Everyone that touches a Llama is always amazed at how soft they really are! We have two herds, Classic and Traditional fiber types. The fiber from the Classics is used for making rugs, while the younger, finer fleeces are used to make our socks, roving, yarn and knitted items.
Our farm display at the 2011 ALSA Grand Nationals in Lincoln, Nebraska
Showing in Halter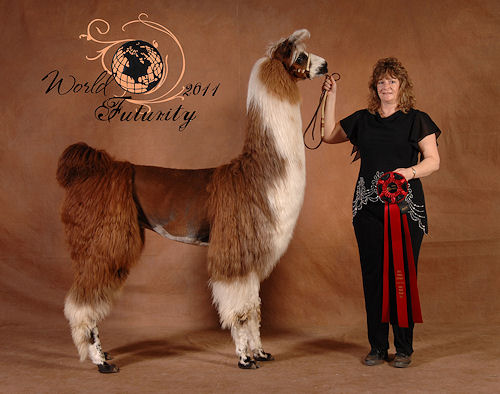 HOLR Antonio and Sherri
2011 ALSA National Reserve Grand Champion
Heavy Wool Male

In this class, the conformation of the Llama is judged. How the Llama moves or tracks from the side, as well as in a straight line. How correct and straight their legs are, whether they have a straight back or level top line and how smooth their gate is. They are also judged on their overall appearance and condition. Too heavy or too thin and any noticeable health issues or defects. Many things are considered in this class.
Showing in Performance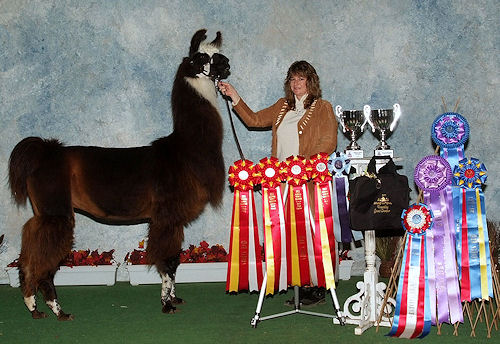 Jorjio and Sherri
2011 ALSA National Grand Champion - Masters Performance
ALSA National Reserve Grand Champion - Driving
ALSA National Reserve Grand Champion - Gelding Versatility


There are 3 classes that make up the performance division...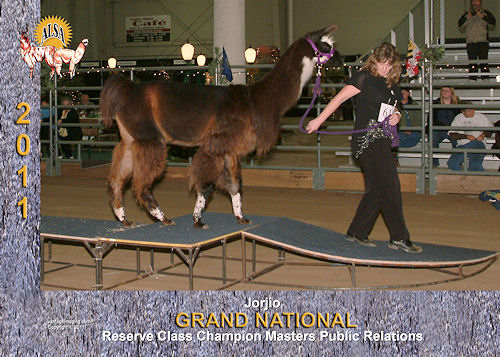 PUBLIC RELATIONS

is a class that has a series of obstacles you might encounter while visiting a school or assisted living facility. Walking up and down stairs, ramps, backing, loading into a van and having people pet your Llama, to name a few.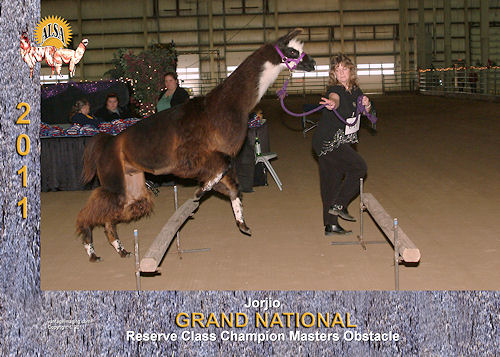 OBSTACLE

is a class that has a series of obstacles which may include low and high jumps, water, side passing, weaving around objects, ducking through a tunnel and backing or going over bridges.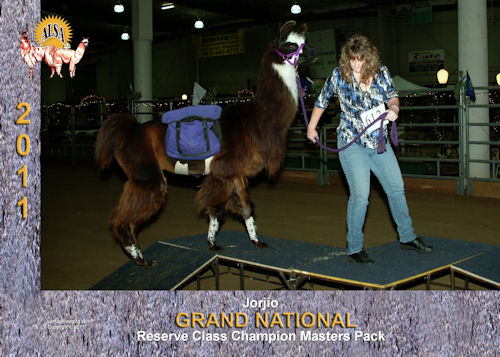 PACK

is a class similar to the other two, this class has several obstacles to negotiate, but your Llama is required to carry a pack, the panniers must be filled out to simulate a full pack system.
Driving Llamas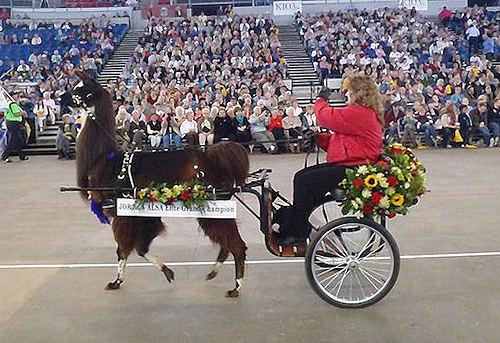 Jorjio and Sherri in the 2011 Portland Rose Festival Parade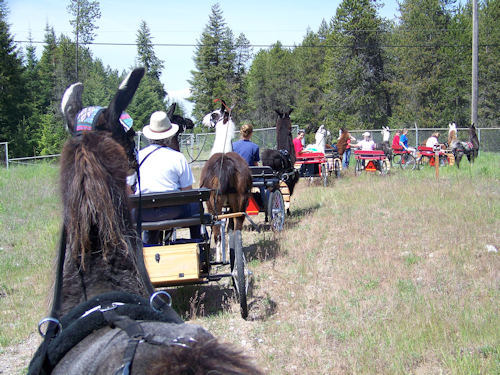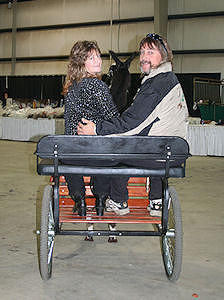 Another area that is gaining popularity is driving. Some Llamas can be trained to pull a cart in either the two or four wheeled type.

They learn commands similar to a horse and have three gaits. Walk, trot and lope. There are carts and harnesses designed specifically for Llamas, as well as a special driving halter. Unlike a horse, Llamas do not wear a bit.

BE CAREFUL, as pony carts are typically not safe and do not fit Llamas properly. It's worth investing in good quality, safe, Llama driving equipment!
Guard Llamas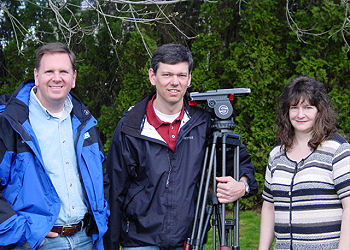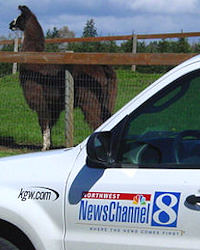 KGW News Channel 8 makes a visit to our farm,
Click on this LINK to view their Guard Llama story


Some Llamas can be extremely effective at guarding sheep or goats against predators like coyotes or dogs, but keep in mind, not all Llamas guard.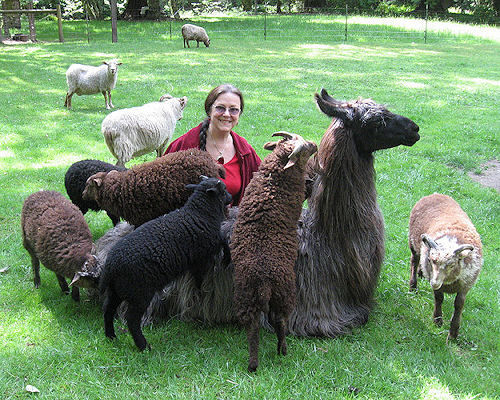 Lynne Deshler of Cedar Haven Farm
along with "Haley" and her Shetland Sheep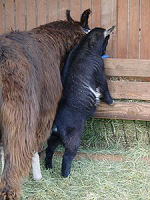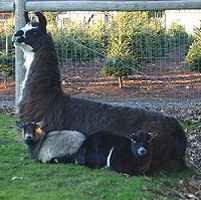 Our stud, London with his goats, Romeo & Juliet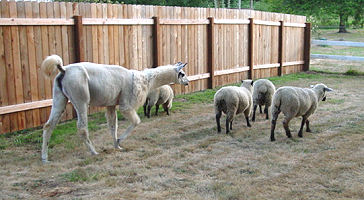 April and her sheep at their new home
Therapy Llamas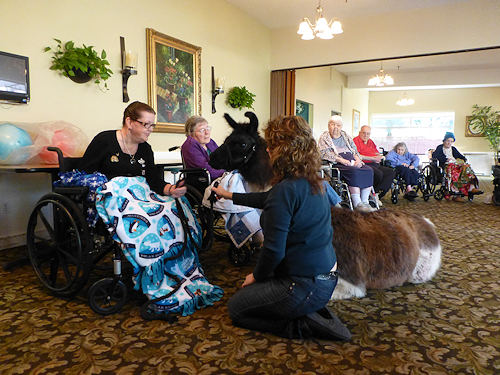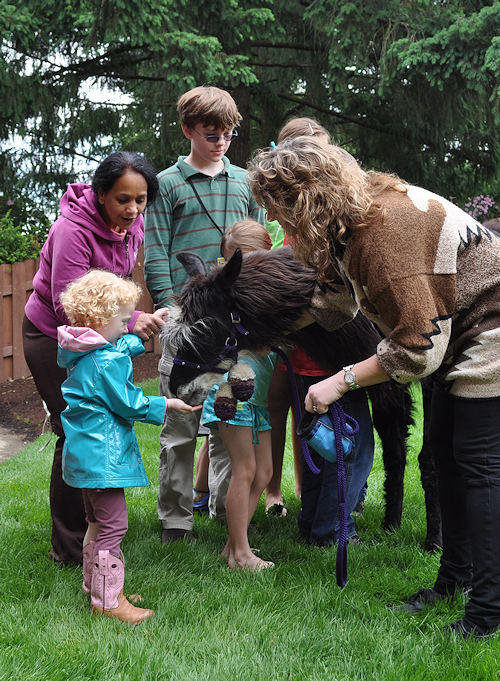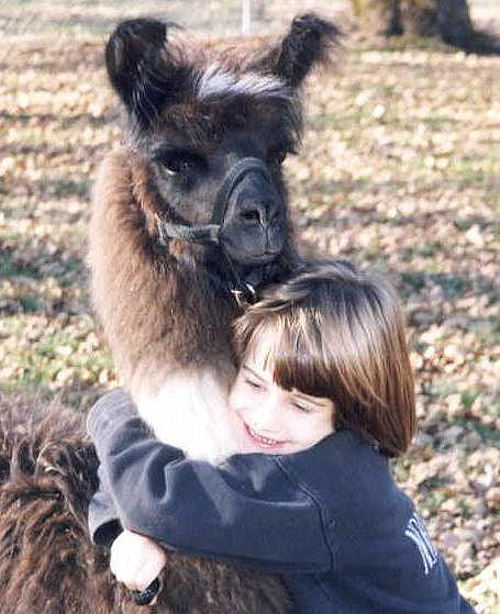 Our daughter Kayla with her first Llama, RDRL Comet
Many people use their Llamas in therapy programs for both the elderly and emotionally disturbed with excellent results. In general, watching Llamas play or graze in a field after a stressful day definitely has a real calming effect!
Llama Llovers 4-H Club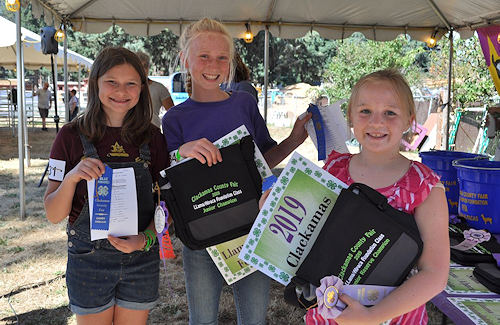 4-H is a wonderful opportunity for children to learn responsibility, leadership and sportsmanship while having a great time. We have a limited number of Llamas available for lease, but if you live in Clackamas County and are interested in joining our 4-H club, give us a call.



---
Some of our Farm Ads
---
2021- HI TRL Vaughn Ad
2019 - CTF Renegade's Vigilante Ad
2018 - Versatility Ad
Llama Banner Jewels - Peruvian Precedent & GC's Inca Legend
Llama Banner Calendar Llama Banner Cover Profile Celebration
Llama Banner Celebration Page 1 Pages 2-3
LFA Futurity Show & Sale
Llama Banner Calendar
LFA Futurity Show & Sale
Hobby Farms Magazine - September/October Issue
Celebration Llama Futurity Show & Sale
Willamette Valley Llama Foundation (WVLF)
Cascade Llama Sale
C
ascade Llama Sale
Virginia Christensen National Llama Welfare Award
ALSA SHOWRING MAGAZINE
LAMA LINK MAGAZINE Cover Page 6 Page 7