At Hidden Oaks Llama Ranch, we enjoy educating people of all ages that want to learn more about llamas. If you are new to llamas, we are happy to answer any questions you might have. We also encourage you to email us or visit our farm for more information.

This will give you a real idea of what they are like and how they interact with each other. Not only do they come in a variety of colors, sizes and fiber types, they all have different personalities! We will gladly show you how to trim nails, shear or train them for whatever it is you are wanting to do with them. We feel it is very important to match the llama with the owner, depending on your needs....breeding, showing, packing, therapy work, guarding, 4-H or if you desire, giving that special home to a couple rescues.

CAMELID COOKIE RECIPE (click HERE)


Interested in seeing some of the FARM ADS
we have done or AWARDS we have received?

Click on the following links below to view some of them!

Farm Ads
Llama Banner Jewels - Peruvian Precedent & GC's Inca Legend
Llama Banner Calendar Llama Banner Cover Profile Celebration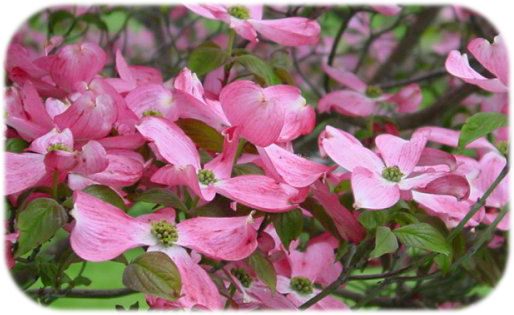 History about Llamas

Llamas are members of the Camelid family, which consists of five species, llamas, alpacas, vicunas, guanacos and of course, Camels. They originated in the high Andes of South America, with many being imported into the United States from Chile, Bolivia and Peru. Llamas have now become so popular that you will see them in most every state, including Alaska and Hawaii.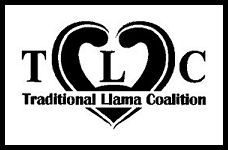 (click on anything underlined below for more information)

Llama Characteristics

Llamas are extremely intelligent, curious, gentle, well-mannered and clean. They have a padded foot with two toes covered by a hard nail.
An adult llama can weigh anywhere from 250-500 pounds. The average life span is 15-20 years although some have lived into their late 20's. Colors vary from white to black, with shades of gray, beige, brown,
red roan and agouti. It may be solid, spotted, or marked in a variety of patterns...tuxedo front, brown and white paint and tri color.
One of the biggest questions we always get asked is "Do they spit?"
My answer to that question is "it's all in the way you handle them."
Most llamas will not walk up and spit on a person, unless they have
been abused, mistreated or have behavioral issues. Sometimes it can
also be from a llama becoming imprinted on people through bottle
feeding as a baby. See the AGGRESSIVE MALES link below. Spitting
is a means of defense and mostly used in establishing a pecking order
in the herd. Some llamas, like people just aren't as sociable!
Llamas communicate their moods with a series of tail, body and ear postures as well as vocalizations. Learning this llama language is one
of the joys of ownership. Humming indicates a variety of moods from contentedness to concern. Sometimes they will make a "clucking" noise. In females, they will usually cluck to the males meaning "they aren't interested". Males that cluck almost seem to have low self esteem and are trying to intimidate you, they may also try to stand extra tall also. Young llamas will sometimes lower their head & neck and flip their tail over their back to another llama. This usually means they are less confident and showing submission.

---

Llama Care
Llamas are some of the easiest livestock to raise; but do require routine care like all animals. They need to have a three sided shelter with a roof of some kind, to provide them with shade in the summer and get out of bad weather. Three to four llamas can easily be raised on one acre of good pasture and must have access to good, clean water at all times. They are browsers, so their favorite thing to do is munch on leaves, trees, blackberry bushes and what ever else they may find.
- 13 Things New Owners Need to Know (2011)


There are certain POISONOUS PLANTS, trees or bushes that can be harmful to them, so it's very important to check this out. Here is another great link, courtesy of Mount Lehman Llamas on POISONOUS PLANTS. Since llamas evolved to use the sparse vegetation in the Andes, they are extremely efficient at processing food. They should be fed a good quality grass hay (12-14% protein) and have a free choice mineral supplement available. Llamas require annual vaccinations and deworming. Regular FECAL TESTING is also very important!

Click below for more parasite information and photos I have taken
from my microscope!
- Parasite/Coccidia Photos (2/07)

- Instructions for doing fecal testing (2/07) (8/19)
Please consult your local veterinarian for which vaccine and/or dewormer is best, as different parasites require different treatment. NAIL TRIMMING is done as needed, approximately two to four times per year, as well as SHEARING, which is done once a year, usually in the spring to early summer months. This is necessary to prevent heat stress, as well as keeping the fiber healthy. It also makes any grooming you may want to do a whole lot easier!

The following links are written by me and solely based on my experience from what I have learned first hand. My intent is not to offend anyone, but rather to educate the public about llamas before you buy!

- Aggressive Males(1/07)

- Guidelines to consider when choosing a llama (11/08)


The following are educational brochures reprinted with permission
from the International Lama Registry, please visit their website at www.lamaregistry.com for additional information. (Adobe .pdf format)
Brochure - I Want A Llama!

Brochure #2 - Guard Llamas

Brochure #3 - Llama Facts

Brochure #4 - Medical Management

Brochure #5 - Housing

Brochure #6 - Feeding

Brochure #7 - Herd Management

Brochure #8 - Birthing

Brochure #9 - Llama Fiber/Wool

Brochure #10 - Packing

Brochure #11 - Heat Stress

---

Our farm offers the following services

Consultation - $35.00 per hour
If you would like to learn more about training llamas, basic health
care or anything else you would like to discuss about llamas.
<![if !supportLineBreakNewLine]>
<![endif]> Shearing (we do not do herds of more than 10 llamas, but will gladly refer you)
$35.00 per llama if you want a barrel type cut and/or if shearing had been done the previous year.

$45.00 per llama if you want a full body cut and/or if shearing has never been done.
*Sorry we do not shear alpacas or sheep, but can offer a referral.

Nail Trimming - $15.00 per llama

Trip and/or Hauling Fee - $.50/mile

Farm Tours/Field Trips to the farm - $10.00 Donation (for rescues)



---

What do you do with a llama?
Llamas have several uses, but please keep in mind not all llamas
are good at all things, it's important to make sure the llama you
choose is a good fit for you and your needs, we can help!
Packing
Llamas need far less food and water on the trail than a hor

se or
mule and can carry about 25% of their body weight, usually 40-75#, 12-15 miles per day if properly conditioned. They are definitely the animal of choice for taking extended trips into the mountains!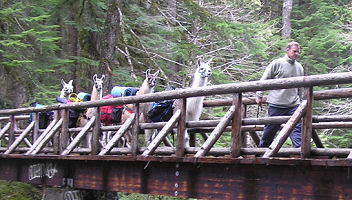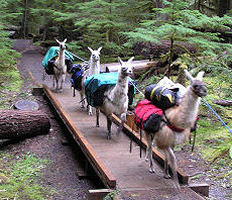 (Click on above photos for larger view)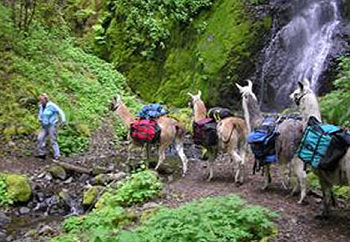 (Packing photos by Joe Staub)


Fiber or
Wool Production
Llama wool is low in lanolin and extremely warm. Garments made,
if tightly knit, are somewhat water resistant also. Everyone that
touches a llama are always amazed at how soft they are!

Showing
Llama shows are becoming very popular in the
United States
and llamas can be shown many ways....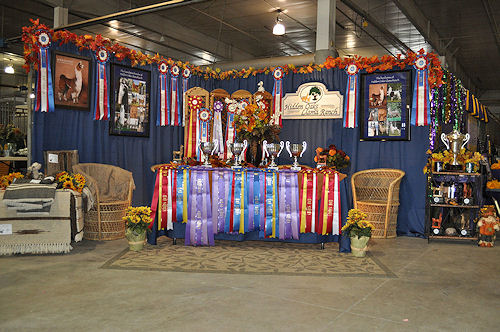 2011 ALSA Grand Nationals - Lincoln, Nebraska


HALTER -
In this class, the conformation of the llama is judged. How the llama moves or tracks in a straight line, how correct or straight their legs are, whether they have a straight back or level top line and how smooth their gait is. They are also judged on their overall appearance and condition...too heavy or too thin and any noticeable health issues. Many things are considered in this class.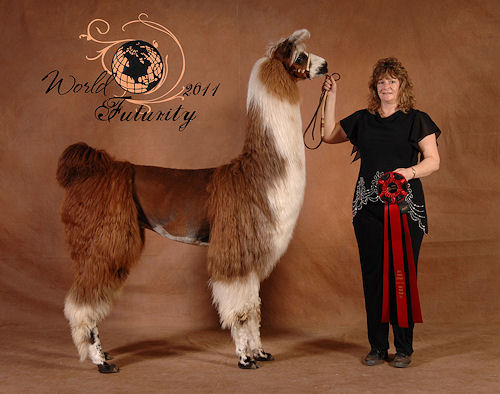 HOLR Antonio and Sherri
2011 ALSA National Reserve Champion Heavy Wool Male


PERFORMANCE -
Which includes obstacles you and the llama maneuver through.
There are three classes that make up performance.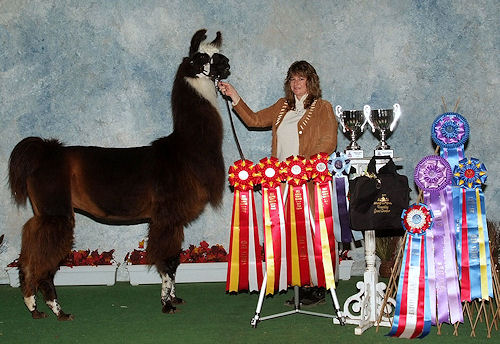 Jorjio and Sherri
2011 ALSA National Grand Champion - Masters Performance
ALSA National Reserve Grand Champion - Driving
ALSA National Reserve Grand Champion - Gelding Versatility

The public relations class has a series of obstacles you might encounter while visiting a school or nursing home….stairs or ramps, backing, loading into a van and people petting your llama.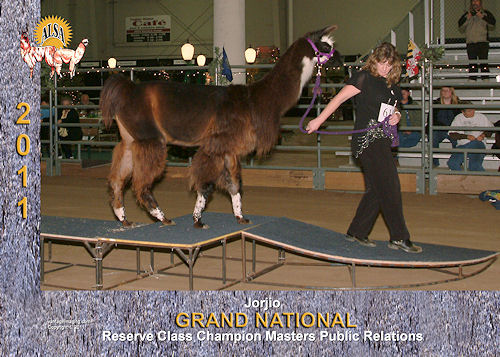 The obstacle class is a series of obstacles which may include
high and low jumps, water, side pass, weaving around things,
ducking through a tunnel, going over bridges and backing.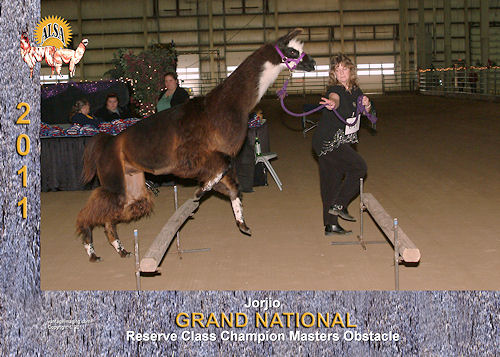 The final class is pack, similar to the other two, this class
also has several obstacles, but your llama is required to carry
a pack, the panniers

are to be filled out

to simulate a full pack

.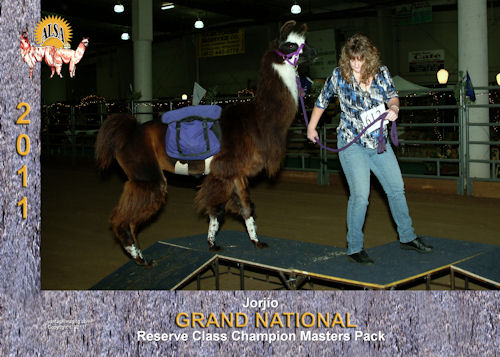 DRIVING -
Another area that is gaining popularity is driving. Some llamas
can be trained to pull a cart, either the two or four wheeled type.
They learn commands similar to a horse and have three gaits....
walk, trot and lope. There are specific carts and harnesses especially designed for llamas, as well as a special llama driving
halter (they do not wear bits!) Contact us for more information
if you are interested. Be careful, as pony carts are typically
not safe....they do not fit llamas properly!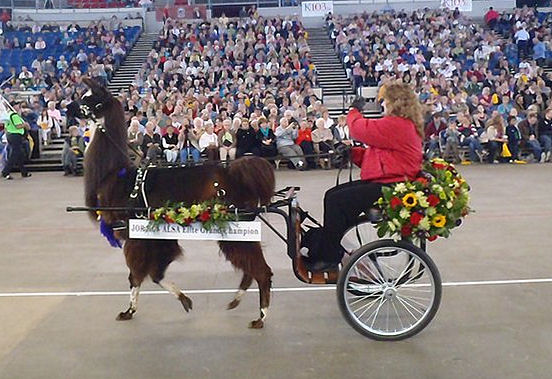 Jorjio and Sherri in the 2011 Portland Rose Festival Parade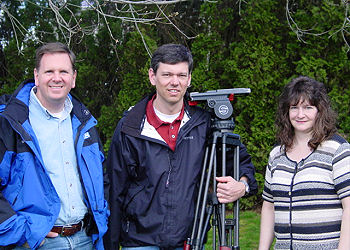 KGW News Channel 8
makes a visit
to our farm ...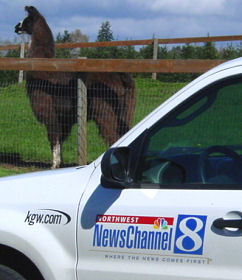 Experience
Guard Llamas!

click here to view the
guard llama story

Guarding
Some llamas can be extremely effective at guarding sheep or goats against predators, like coyotes or dogs. Only a single llama should be used in a particular area as some may not take their job as serious if they are with other llamas. We have found they can be effective in separate pastures guarding separate animals on the same property in some cases.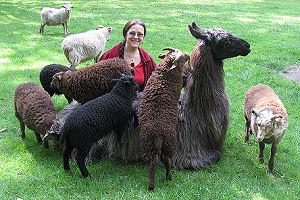 Lynne Deshler of Cedar Haven Farm
along with "Haley" and her Shetland Sheep
(click on photo for a larger view)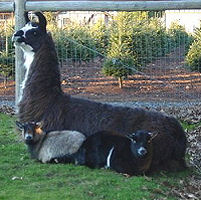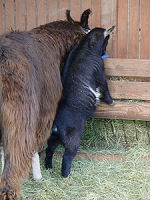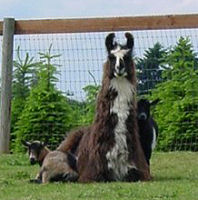 Our stud, London with his goats, Romeo (Black) & Juliet (Tan)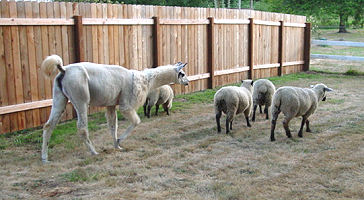 April and her sheep at their new home

and
Therapy Llamas!

click here to view the
therapy llama story

Therapy
Many people use their llamas in therapy programs for both
the elderly and the emotionally disturbed with excellent results
and watching them play or graze in a field after a stressful day definitely has a real calming effect! Visit our LINKS page
for more information on pet therapy.

Click on this link to learn more about
Mountain Peak Therapy Llamas!!!
http://www.rojothellama.com/home/smokeys-story/

4-H Clubs
4-H is a wonderful opportunity for children to learn responsibility, leadership and sportsmanship while having a great time. It is
also much less expensive than say a horse or larger animal. If
you are interested in joining a llama 4-H club, give us a call.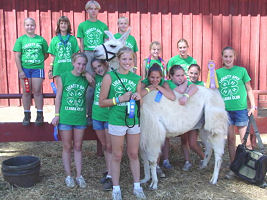 Clackamas County Lickety Spit 4-H Club

What else? Enjoy them!
If you haven't experienced the wonderful world of llamas....
you are really missing out! Call us today to schedule a visit....
503.710.7541 or email at hiddenoaksllamaranch@msn.com